By Damien James
"I'm really nervous," says Lucia Fabio, director of Mini Dutch Gallery, when asked how she feels about "metabolizing" the artwork of EC Brown. As she looks at Brown's paintings on the walls of Mini Dutch, her admiration is palpable. "Erik's work is amazing. You don't see drafting skills like his often. His odd, elongated panels and color palettes are always so intriguing, and I'm really fond of the sexual undertone to his work."
Billed as "one show: three openings," the current Mini Dutch exhibition started with the EC Brown solo show, then came the "metabolizing," in which Fabio responded to Brown's work by creating new pieces of her own and re-curating the show, like a call-and-response between the two artists.
Fabio's nervousness can't be contributed solely to showing with Brown, however. She hadn't produced much work on paper since graduating from The School of the Art Institute, in 2007, opting instead for large-scale paintings and sculptures, often inspired by her pet rabbits. "While in school I focused mainly on the figure, but near the end became so fed up with the system and with making 'meaningful' work that I painted my female rabbit, Patina, mounting my male rabbit, Fujoe, on the wall. It measured nine feet by ten feet, and it was such a relief."

"Her fears," Brown says, "were completely unfounded as it turned out! I am really pleased with the second phase of the show, and I like that her drawings and paintings create a tidal pull on my own images, making them less of imaginary film stills and more like natural history documentation–in my own summation. In fact, I would have been happy if Lucia was far more aggressive and heavy-handed in her treatment of my work. But I really wanted her to make that decision."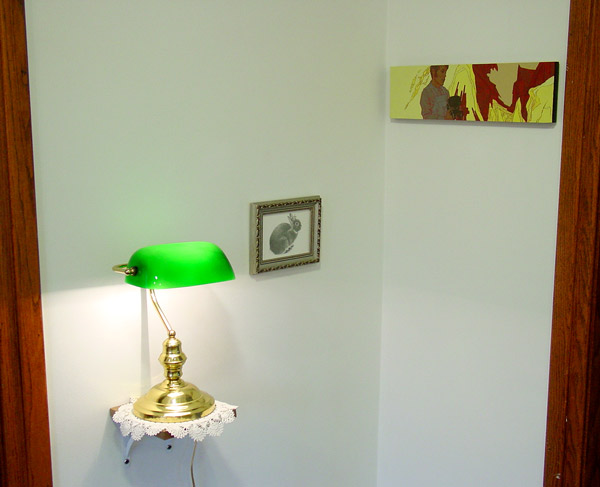 In August of 2008, Fabio offered Brown the solo show. Since Mini Dutch focuses on works-in-progress, site-specific installation and experimental pieces, Brown took some time to come up with a project for the space. He came back to Fabio with an offer to curate her work in the gallery instead of his own (both run apartment galleries and make art). He had encouraged her to show her work in her own space before. "Erik always included his work at COMA openings and now continues to at FLAT," says Fabio, but wanting to avoid a vanity show, she declined. "That begun our long discussion about the show. After much debate we finally came to the current structure."
Fabio and Brown are both reluctant to call it a collaboration. "I feel like we are co-organizers of the show," says Fabio. "We never worked on work together, just facilitated each other with the work. The most important thing for me is that I got to show Erik's paintings and that I started to make work again. I am so grateful that he gave me this kick in the pants to produce again. It's just a bit nerve-racking when the kick in the pants is made public."
"I really don't collaborate with people very well," Brown adds. "I prefer to 'coordinate.' That way, I can create a protective force field around my own ideas and desires, and simultaneously facilitate creative spaces for others."
Collaboration or not, such freedom and playfulness are characteristic of artist-run apartment galleries. Both artists see eye to eye on the benefits of working in their respective homes. (Mini Dutch calls itself "another apartment gallery.") "What space would have three openings for one show?" asks Fabio. "I would be asking collectors to come by three times to see the work. Also, the thing with apartment galleries is that there isn't the pressure of selling work. I can show work in Mini Dutch that is really experimental and ephemeral, but unsellable," such as site-specific installations.
Brown adds, "The prime benefit is that the apartment/domestic spaces are typically artist-centered, and not collector-centered. I've realized that in many formal galleries, the aims of the artist tend to stumble over the aims of the gallerist, who really needs a decent amount of control in order to either attract sales, attract press, or manicure the reputation of the gallery. When the commercial interests in exhibiting have been diminished or bypassed, energy can be better applied to experimentation or galvanizing a particular community or social circle. The latter point is especially important to me–Chicago has long been a place that artists evacuate."
For the third and final opening of the show, the group show, other artists who run their own spaces were invited to contribute, such as Caroline Picard of Green Lantern, Miguel Cortez of Antena and Liz Nielson of Swimming Pool Project Space, among others. "We basically picked people we knew to participate who run domestic-type spaces and who also made work. We figured since we were already cramming a bunch of artists into a small space that it would be easier to deal with people we knew."
DIY galleries are better known for their creative programming than their longevity, but Mini Dutch is happy to enjoy both for a while. Lucia Fabio is full of ideas. It's possible they'll all be this interesting.
"Dusty Bunnyfield vs. Molotovia Cottontail" runs through April 19 at Mini Dutch Gallery, 3111 W. Diversey, first floor. Third reception is Saturday, April 18, 7-10pm.